Our passion for baking inspires us to bring only the highest quality baking products to you. Wilton is one of the most reputable brands in the industry and we are proud to extend their baking products to you.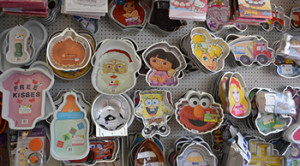 Preparation is one of the most important aspects of successful baking. That's why we love our line of baking tools and ingredients because they make your time in the kitchen a lot more enjoyable. We hold our merchandise to the highest standards and ensure that everything we sell is both convenient and affordable.
Whether you're planning a custom themed birthday party, a wedding or just an evening of entertaining, we have the tools you're looking for. Some of our cake tools include:
Cake Pans
Cake Stands
Piping Tips
Decorative Sets
Pillars
Tiers
We also carry a variety of specialized ingredients that will help you with your dessert masterpiece. Our line of ingredients includes:
Food Color
Non-Stick Spray
Spray on Food Color
Whether you're new to baking or already at home in the kitchen, MG's Bakery Supplies is your one-stop shop when it comes to baking in your kitchen easier. We invite you to explore the links below to learn more about our wide range of products.
Contact Us
For more information about any of our products contact MG's Bakery Supplies today at 956-687-7176 or visit our store at 123 S. 17th St, McAllen, TX 78501-5133.