In our family, dessert is a comforting (and delicious) way of showing love. Our passion for baking and feeding the ones we love led to the inception of MG's Bakery Supplies. Named after our mother, Maria Guadalupe Avila, MG's Bakery Supplies prides itself on being one of the leading suppliers of top-quality merchandise in the Rio Grande Valley.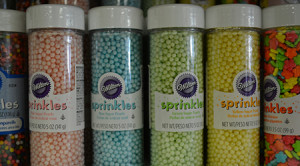 We consider each of our customers both a blessing and a privilege. That's why we take our reputation seriously. With a client list that includes both commercial bakeries and at-home chefs with discerning tastes, we can't afford to be anything other than exceptional when it comes to customer service and product offerings. As one of the most trusted names in bakery supply, we take our position seriously and are constantly seeking out the newest and most efficient products the industry has to offer.
We believe that baking shouldn't be a chore. It should be fun, creative way to express yourself and the best part is, you get to eat your creation. This idea is the driving force behind what we do. We not only want to deliver merchandise that meets or exceeds industry standards, we also want to show you what to do with it. That's why we also offer two distinct cake decorating courses led by a certified pastry chef that will not only offer you a strong foundation in cake decorating, but will also grant you the opportunity to experience some of our best decorating tools first-hand.
Contact Us
We invite you to see for yourself why MG's Bakery Supplies is one of the most trusted names in the RGV. For more information about any of our products and services, please contact us today at 956-687-7176 or visit our store in person at 123 S 17th St, McAllen, TX 78501-5133.